Dean Deceiver
LP Killer. Very well made guitar.
Thank you Evil D.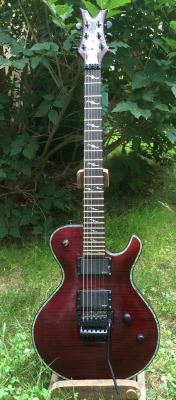 1979 R1
Made in HS woodshop. Learned to play on this guitar. Neck from an Cameo Les Paul copy. Schaller tuners. Graphite bridge saddles. Currently sporting Dimarzio pups. Used to have lots of switches and stereo output. Now it has a volume control and pickup selector switch

Raspberry Strat
Mid-1980s Stars Guitars body. handmade neck, EMG pups. Supposedly built by the guitar tech at Sam Ash Music in Boston. Sticker from a coffee shop in Amsterdam. Autograph from Buck Dharma. I've used this as my main guitar in the Plan Be band and on many recordings.
Thank you Kathy Maceijewski.

Godin LGX
Piezo and Seymour Duncan pups. 15 pin output for MIDI converter. Very nice neck. Totally pro instrument.
Thank you Kat Dyson.